Welcome to
AC Tech Electric Inc.
At AC Tech electric we are fully licensed, insured and highly skilled electrical contractors specializing in industrial, commercial, residential and agriculture electrical services and serving clients from Mississauga, Brampton, Oakville, Halton Hills, Markham, Toronto & other GTA
Expert Electrical Service: You Need It, We Gladly Provide It.
We are committed to providing expert electrical service and our reputation for being professional, courteous and reliable speaks for itself. We tailor our approach to your specific electrical needs in a timely and cost-effective manner. With more than 10 years of quality workmanship and a commitment to excellence, our service consistently exceeds our customer's expectations.
With over 15 years of industries experience,we are highly skilled and fully licensed electrical contractors
specializing in residential, industrial, and commercial electrical services, as well as maintenance of electrical systems. As a company we provide services based on honesty, reliability and safety commitments. We share the new industries proved technologies, skills and ideas with our customers, and grow with our valued customers in timely and costly efficient manners.
SERVICES
We provide electrical services in sectors and beyond as we carry on for the customer satisfaction commitment
Electrical distribution system design and build
Transformer, ATS,backup generator,metering
Motor control system design and build, VFD
Automation and control network system design and build
PLC, robotics, HMI programming
Control panel design and build
PSR/PSHSR safety upgrade or alternation for machine or process
Infrared thermoscan, preventive maintenance
New machine/equipment installation and fine tuning
Process or machine evaluation for problem solving,efficiency or safety upgrade
AutoCAD drawings updated for old machine
Emergencies troubleshooting
Lighting and control build, alternation and LED upgrade
Electrical panel and racks thermoscan inspection,troubleshoot and repair
Office upgrade and renovation
Motor,VFD, Fans, HVAC devices installation and troubleshooting
Safty defficiencies notice correction, alteration
Lighting and control system build, alternation and LED upgrade
EV charging station
Backup generator
High end house renovation
Fans,Motors and venting and climate control system
Transformers, Single phase to 3 phase alternation
Automation upgrade or installation
Wiring and installation
Solar panel system design and installation
Microfit/Fit/Net-metering program design,apply and installation
Electrical vehicle charging station
SAFETY
We believe that making everything easier by expertise and proper technology application will make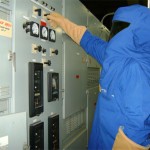 everything safer and the safety will be brought to our customers and our self. We do arc flash categories evaluation and labeling through partnership with engineers. We also do infrared thermoscan for electrical system before the serious problems happen.
All our employees will be trained before they are sent to the jobs. Procedures and PPE has to be followed and equipped when they are doing the jobs.
AC Tech. Electric Inc.
14281 Dublin Line,
Halton Hills, ON L7J 2L9
Phone: +1 (416) 574-4675
Email: info@actechelectric.com
We serve clients from Mississauga, Brampton, Oakville, Halton Hills, Markham, Toronto & other GTA
Please fill out the form below to contact us.